Coco Loom Turkish Towels
Made with care, attention to detail, and to the highest quality. Our towels are an investment that will last many years, and better yet, it will only improve with use. Every wash adds to the softness and absorbency, so your towel will become even more softer and absorbent the more you use it.
Roll out a Daily escape
Your daily escape to the Riviera awaits. Just roll out this golden homage to Mayan culture and Boho style. These Eco-Luxe towels are up for anything, daydream to destination.
Shop the collection
From Hammam to Om
The Coco Sultan towel is our lightest towel, yet amazingly absorbent and air dries in the blink of an eye. No wonder the Sultan is a bestselling must-have. Packable Zen.
Shop Coco Sultan
These towels are so oh so soft and so very unique in their designs as well as their texture. Go ahead and buy it. You will be in love! Best purchase I have made in a while. One happy customer.
Daphne Y.
Love everything about Coco Loom. They are very lightweight yet extremely absorbent. They also dry very quickly. Prices are excellent for the quality that you get with these towels. I will replace all of my towels with Coco Loom.
Matt Y.
"I absolutely LOVE the Coco Sultan. It has an incredibly soft texture, a beautiful design, and it just feels amazing against my skin. I use it everywhere! I use it after my shower and I also use it as a blanket when I'm a bit chilly. It is so very versatile. I cannot wait for summer to use it at the beach. Thank you Coco Loom for introducing us with what a towel SHOULD feel like."
Ilkem S.
"This is by far the most softest towel I have ever touched my skin on. I can't even begin to describe the incredible texture, the beautiful design, and to simply put over-the-top quality of these towels. I have made several purchases in different colors and designs for my family. We are all in love with these towels."
Joy L.
My New Go to Blanket! I heard about Coco Loom from a friend and decided to get one for myself. I'm so glad I did! This is my new favorite blanket! I absolutely love it 🥰 Color is so beautiful, It's incredibly soft and well made. I take it with me everywhere.
Alex t.
My favorite travel companion. I loved the first one I ordered so much that I ordered three more. Towels are very soft and great size. It's very practical to carry everywhere. Absolutely love it 💜
Nil K.Martin
I love this towel! Not only is it beautiful but its also lightweight and packs very easy.I bought this artsy towel to be able to pack for trips for either camping or a quick flight somewhere and glad I did.It's super soft and very absorbent and long enough to use like a regular beach towel,without the weight or long drying time of a regular towel.Buy it you will not be disappointed!
Brianna
Reusable packaging
To eliminate the need for plastic and waste in our packaging, we designed a carrying pouch made out of 100% Turkish cotton. Each Coco Loom towel comes in its own handmade pouch that is water resistant, breathable and will keep your towels clean and hygienic while making their journey with you.
shop now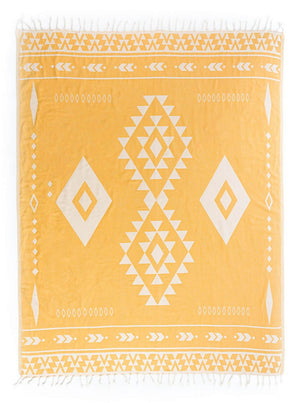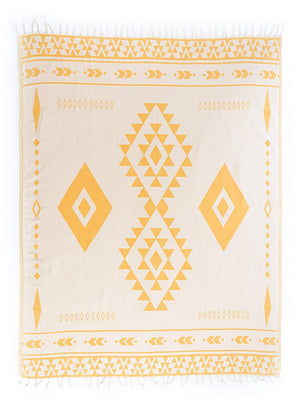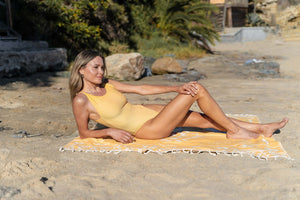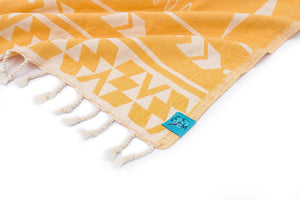 Coco Maya Towel XL Your daily escape to the Riviera awaits. Just roll out this golden homage to Mayan culture...
Learn more
Go-Anywhere , do-anything
Use yours as a luxe bath towel, beach blanket, yoga mat, wall tapestry, picnic blanket, camp towel or whatever else you can dream up.